Saved Vehicles

[

00

]

Print
---
Chiron Super Sport 300+
To mark the sensational record-breaking run that exceeded the magical threshold of 300 miles (482,80 km) per hour for the first time, Bugatti proudly presents the Chiron Super Sport 300+. Limited to 30 units, this very special edition of the Chiron is visually and technically inspired by the record-breaking vehicle.
---
Unrivalled Performance
The Chiron Super Sport 300+ bodywork has been extended and aerodynamically optimized for extremely high speed performance. The perfect balance between low drag and downforce improves performance and stability, even at speeds over 420 km/h. The iconic W16 8.0-liter engine now delivers an output of 1.176 kW/1.600 HP, exceeding the Chiron by 100 HP.
Aerodynamics
Air curtains located at the corners of the front bumper and air outlets on the front wheel housings release excess pressure, generating slight downforce and reducing resistance. The new rear design is also sure to turn heads. The so-called Longtail extends the body 25 centimeters, allowing the laminar flow to pass over a longer surface, and reducing the aerodynamic stall by more than 40 percent. The new exhaust tailpipe configuration and the diffuser in the rear end also generate negative lift, while further reducing the drag.
Design
The interior is dominated by black carbon, leather and Alcantara in Beluga Black. Details in eye-catching jet orange provide an exciting contrast and include the exclusive lettering on the headrests and the side panel of the centre console as well as the fine double-stitched seams. Full-length racing stripes in jet orange contrast with the jet black bodywork made from exposed carbon fibre. Like the engine cover, the windscreen wiper is made from black carbon fibre. Like all the other body trim components, the ultra-lightweight magnesium wheels are finished in "Nocturne" paint.
The World Record
With this record, Bugatti is breaking new ground. Never before has a series manufacturer achieved such a high speed: on August 2, 2019, the Chiron Super Sport 300+ was the first-ever hyper sports car to exceed the magical threshold of 300 miles per hour (482.80 km/h). At the same time, Bugatti also set a new TÜV-certified speed record on this run. Being the first-ever manufacturer to surpass the 300 miles per hour boundary is an impressive achievement and demonstrates what the extraordinary Bugatti team is capable of. But Bugatti's hyper sports cars can do so much more, offering absolute exclusivity, luxury, unrivalled beauty and exceptional automotive craftsmanship. Bugatti is the only manufacturer to combine all these characteristics in a single hyper sports car. And that's what the brand has represented for 110 years.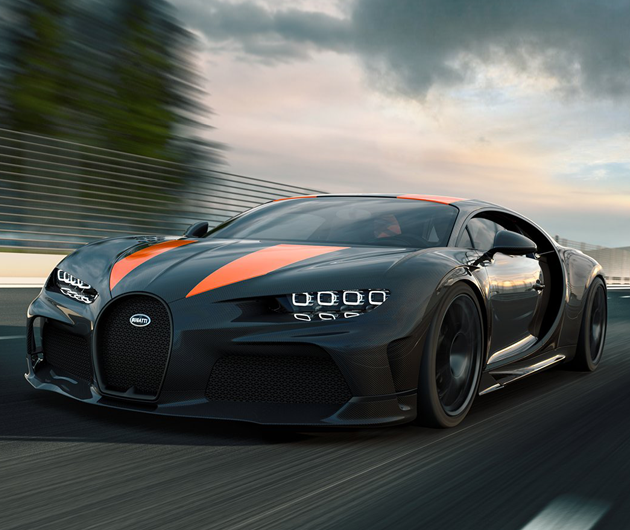 ---
Maximum Power
1,577
Hp
at 6,700 rpm
Maximum Speed
300
mph
482 km/h
---